Basic features for a budget phone
The Nokia 2700 Classic has the basic features of most budget mobile phones in the market. Other than the regular Nokia phone functions, it has a 2-megapixel camera, built-in mp3 player and FM radio. The color display is a relatively large 2-inch QVGA type. It comes with 1 GB memory card, expandable to 2 GB. It even comes with a complimentary mobile email account, a 1 GB Ovi Mail from Nokia.
SUN Cellular postpaid Plan 350
The unit comes for free with a postpaid SUN Cellular mobile Plan 350. I got one for family use, to take advantage of SUN's free unlimited calls within its network. Thanks to SUN, the perks of having no limit in making calls and sending SMS to other SUN subscribers really gave us big savings.
Energy saving reminder
The Nokia 2700 design is nothing extraordinary, still the same user-friendly functions of most Nokia phones. However, what I really do appreciate about this phone is its energy-saving tip once the battery is fully charged. While most phones have icons on its screen that tells you if the battery is still charging, or if it's already full, the Nokia 2700 tells you in a way that can be read, and not just some icon or symbol.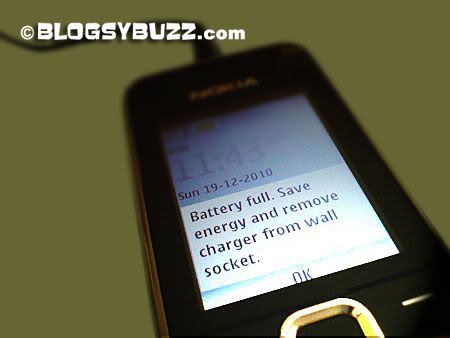 Unlike my Sony Ericsson C510 phone which has a tiny battery icon telling me about the battery status, it is quite difficult for me to know if it's fully charged or not. It doesn't even make a sound or give an alert like the LG KP105 that gives a short bleep when it is completely charged.
"Battery full. Save energy and remove charger from wall socket."
The fully-charged battery notification of the Nokia 2700 may be just two simple sentences, but it surely reminds us that even a simple habit of unplugging a fully charged phone or equipment from the power source goes a long way in saving energy and helping our environment.